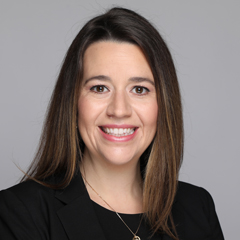 Mary Beth Sullivan is a Partner at Sullivan, Klocke & Williamson and an active member of the Collin and Dallas County areas. Mrs. Sullivan's practice is exclusively focused on family law matters.
Mrs. Sullivan's uncanny intuition allows her to quickly identify and understand her client's needs and develop a litigation strategy to achieve the best possible results for each of her clients. With extensive experience in legal negotiations, Mrs. Sullivan is adept at analyzing potential exposure and minimizing risk through a measured litigation plan.
As a mother of three, she truly understands how emotionally taxing family law litigation can be for parents and children and strives to provide peace of mind to each client through consistent and clear communication.
Mrs. Sullivan is a graduate of Oklahoma City School of Law and was also a visiting student at the University of Memphis Cecil C. Humphrey's School of Law. She earned her bachelor's degree in History from Christian Brothers University in Memphis, Tennessee where she clerked for the Honorable Judge Robilio in the Shelby County Circuit Court, District V.
Mrs. Sullivan is licensed in both Texas and Tennessee.