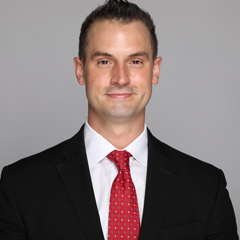 Chase Evans is a sharp litigator whose skills are simply unmatched. Chase handles a myriad of cases with a primary focus on probate litigation, personal injury, and civil litigation matters. His calm demeanor and persuasive communication skills allow him to navigate complex legal issues with ease, earning the trust and respect of both clients and colleagues.
Chase earned his Bachelor of Business Administration in Accounting from Texas Tech University, magna cum lade, with a Designation in Honors Studies from the Honors College. He was recognized by his peers and professors as one of the fifty most influential students at Texas Tech by being named as a Member to Mortar Board. He also served as President of his fraternity, achieved fluency in Spanish, and continued to be an active member in his community and at his local church.
After completing his undergraduate studies, Chase was awarded the Dean's Academic Excellence Full-Tuition Scholarship to attend Baylor Law School where he earned his Juris Doctor. While attending Baylor Law School, Chase was elected and served as class President of the Student Bar Association and served as President and Cochairman of the Harvey M. Richey Moot Court Society. Chase was named to the Order of the Barristers for excellence in legal advocacy and served as Articles Editor on Baylor Law Review. Chase was also selected to serve as a Student Mentor in the inaugural year of United States Supreme Court Justice Sandra Day O'Connor's Civics project in Waco, Texas.
After law school Chase gained valuable experience while working for a large Texas-based firm where he focused on commercial disputes, complex business negligence and breach of fiduciary duty cases, as well as business and real estate transactions. Chase also led the creditor's claims division in the Probate Litigation Department. With a background in both law and business, whether in the context of trial or business transactions, Chase understands the importance of directing negotiations and communicating complex legal arguments with clarity. As an experienced trial lawyer, Chase routinely exceeds the expectations of the individuals and entities he represents.
Chase lives with his wife and two Vizslas, Raider and Chief, in McKinney, Texas.